We have been trying to reach you about your car's extended warranty…. a member of the royal family would like to transfer a large amount of money to you…. your Netflix password has been compromised, reset now… Does this sound familiar?  Well now you can add another to the list. Harmful phishing schemes are everywhere these days and scams, or spam, that specifically target trademark holders are rising steadily.  According to 2019 data, about 45% of the world's daily email traffic is spam – that's somewhere in the neighborhood of 14.5 billion spam emails globally every day.  Add to these extraordinary numbers the ubiquity of mail fraud and you have a tricky landscape to navigate.
Misleading invoices demanding astronomical sums of money to secure your trademark on a private registry or to file a trademark renewal on your behalf are favored as vehicles to defraud trademark owners. If you have ever registered a trademark with the United States Patent and Trademark Office (USPTO) (or internationally with the World Intellectual Property Organization (WIPO) or European Union Intellectual Property Office (EUIPO)), you are at risk of receiving fraudulent renewal notices, cancellation threats, or revival offers. Chances are you have already received at least one.
Because registrants' addresses are publicly available, such solicitations used to come most commonly through the mail.  These are no less alarming than the emailed variety, but easier to ignore in the digital age.  That all changed at the start of 2020 however, when the USPTO instituted a new policy of requiring email addresses for the owner of an application.  This rule was eventually amended some months later to not show the owner email address on the public record, so long as an attorney email is present. But this means that, for a several month period, owner email addresses were vulnerable public information, available at the fingertips of anyone with a computer, scammers included.
Whether it's coming via inbox or mailbox, trademark scams are prolific. Any notice not originating from the United States Patent and Trademark Office, or your trademark attorney, should be treated as a scam. So, what can you do to keep yourself safe? Whether you are a Drumm Law client or just stopping by to read this article, if you think you have received a scam letter or email please contact us at trademark@drummlaw.com. We are more than happy to help you determine if the letter is real or fake.
Here are a few additional tools you can use to help mitigate the risks of falling victim to a trademark scam:
Know what to look for. Unlike everyone's favorite Nigerian prince, trademark scams are often subtle. You may receive notices that look legitimate, even to a discerning eye. Organizations like "Patent and Trademark Office," "PTMI – Register of Protected Patents and Trademarks," or "Trademark Compliance Center" all sound official at first pass, but don't be fooled. Such titles will often be accompanied by a fictitious seal or a passably governmental web address.
Official letterhead of the United States Patent and Trademark Office:
Official seal of the United States Patent and Trademark Office: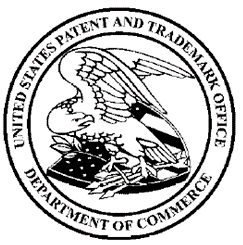 Bottom Line: if it's not from the United States Patent and Trademark Office in Alexandria, VA or the domain uspto.gov, it's probably spam.
Know your trademark. Many trademark scams rely on a sense of urgency and provoke panic over losing your trademark rights. They will often feature headings – or a note on the envelope -such as "URGENT – open immediately!" or "Cancellation Notice." These are frequently accompanied by either inaccurate or partially accurate renewal dates. The goal is for a recipient to make a knee-jerk payment for fear that their trademark will expire right under their nose. In reality, the USPTO offers a yearlong window for trademark renewal and a six-month grace period during which a renewal can still be filed with a late fee. Knowing what your real deadlines are can go a long way in weeding out spam surrounding your trademarks. If your trademark attorney isn't giving you a heads-up about when your trademark is open for renewal, find an attorney that does. Send us a message; we will let you know if you have a deadline coming up.
Bottom Line: if a notice comes as a surprise, demanding immediate action for a rapidly approaching deadline, it's probably spam.
Know what to pay. While most law firms and online DIY services charge filing fees in varying amounts, many scams push the boundaries of what is believable pricing. The USPTO provides more useful information on trademark fees and how they are assessed here: https://www.uspto.gov/trademark/trademark-fee-information
Bottom Line: If you receive a notice requesting $800, $900, or $1,000+ for the renewal of one trademark in a single class, this is good reason for skepticism.
Not even an intellectual property law firm like ours is immune to deceptive solicitations.  Below are three examples of recent scam letters we received. We have highlighted major red flags you should be on the lookout for.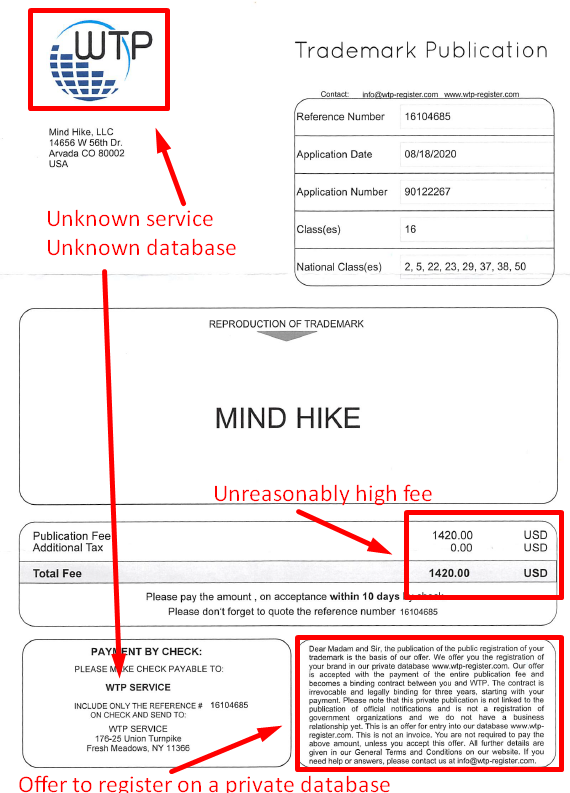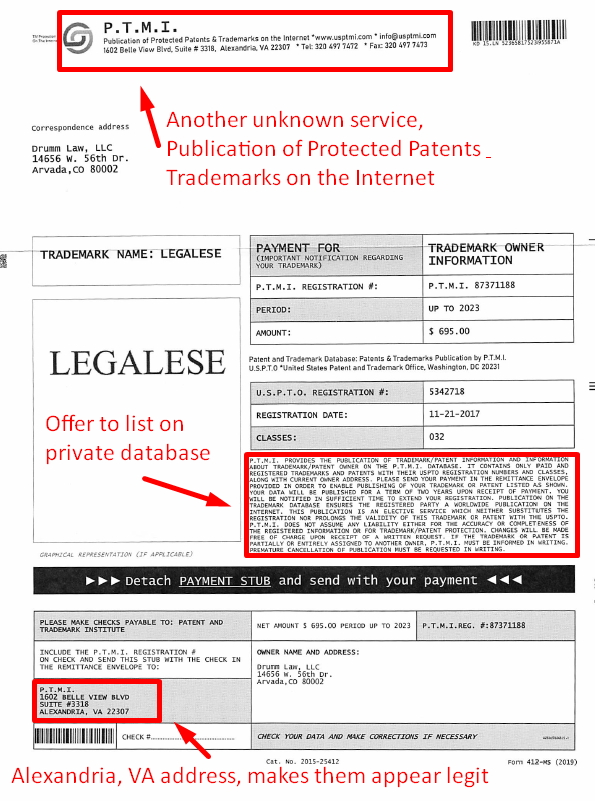 Ultimately, the best defense against scams is hiring a trademark attorney – this will ensure that all updates and notifications from the USPTO will be funneled through them. They can help you remain vigilant against phony solicitations and offer valuable advice in other trademark matters, saving you money and stress in the long run.